(its) the area around the eastern Mediterranean; from Turkey to northern Africa and eastward to Iran; the site of such ancient civilizations as Phoenicia and Babylon and Egypt and the birthplace of Judaism and Christianity and Islam-Web Definition
Translation?
You will find commonalities such as architectural designs, cultural practices, Arabic language, and Islamic religion between the countries of the Middle East.
Here at Home Synchronize, our mission is to simplify home decorating for anyone interested in the rich culture of the Middle East. Through our blog, we will explore the majesty of Islamic inspired interior design and introduce you to the influence of the Islamic civilization and Arab culture on the interior design of today. We will share our passion for art and design by offering you the most popular Arabic/Islamic quotes and patterns as stencils and decorating ideas to use them with. Our shop is where we showcase our collection of home decor treasures from around the Middle East as well as handmade Islamic art by Lama, our own artisian.
…………………………………………………………………………………………………………………………………………………………………..
Popular Blog Posts
 ……………………………………………………………………………………………………………………………………………………………..
Arabic/Islamic Calligraphy Stencils
Calligraphy, the art of writing, is the most admired form of art in the Muslim world. A skilled calligrapher is able to manipulate the Arabic script into an astonishing form of art that can be seen adorning walls, furniture, ceramics, textiles, and glass. Our Arabic/Islamic calligraphy stencils will enable you to replicate that fascinating form of art (see examples here).
Home Synchronize has been the leading stencil designer of Arabic/Islamic calligraphy stencils since 2013. We pride ourselves at providing the highest quality stencils for all your decorating needs. Our stencils are available in two materials; Single use and reusable. Our single use stencils are cut from a low-tack adhesive backed vinyl sheets. They can be used on any smooth surface such ceramics, glass, and mirrors. Reusable stencils are cut from durable, washable 10mil mylar sheets and can be used on walls, wood, tile, and fabric. These stencils allow you to express your creativity and customize your calligraphy in the colors of your choice. Visit us often for new stencil design ideas on our blog!
We are continuously updating our library of Arabic/Islamic calligraphy quotes to offer you the widest selection of stencils that you could use to add Middle Eastern character to your home. Browse our Arabic stencils, Islamic stencils and Islamic pattern stencils now!
Home Synchronize accepts custom orders for Arabic/Islamic calligraphy stencils. Prices are based on the stencil material, size, and amount of work needed to design and/or turn your design into a stencil. Contact us and we will help you turn your idea into a stencil.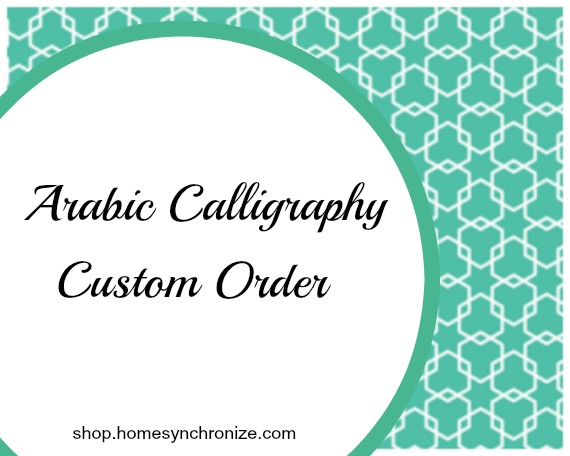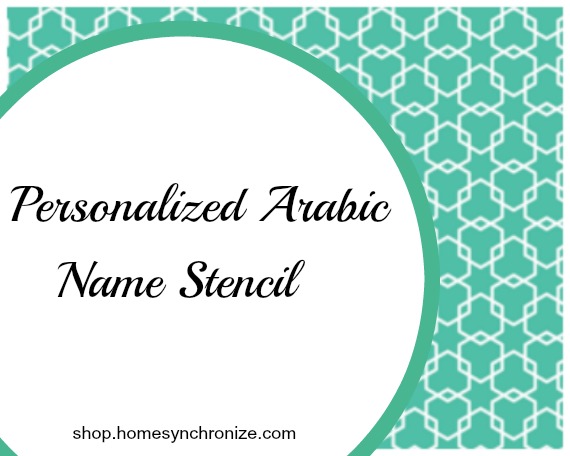 Follow us on social media and sign up for our newsletter to receive free updates about new stencils and blog posts.
Thank you for visiting!