Salam my friends!
We are still chatting about the basics behind successful furniture arrangement. In part 1, I explained traffic patterns and how they should guide furniture placement. In part 2, I  shared questions that you could ask yourself while evaluating the space for the best furniture layout. Today, in part 3 of this series,  I will share examples of typical furniture groupings that might work in your space.
The L–shaped furniture grouping is done by placing furniture perpendicular to one another forming an L Shape configuration. This arrangement is the most popular because it allows for multiple functions, such as conversation and watching TV.
The U-shaped furniture grouping is done by forming a U shape configuration facing a focal point. This arrangement enables eye contact and provides for easy interaction between people.
The box-shaped furniture grouping is done by adding extra seating to the U-shaped furniture grouping forming a square.
The H-shaped furniture grouping is done when furniture is placed facing one another, with a coffee table in the middle, around a focal point.
The circular furniture grouping is done by arranging the furniture in a circular shape around a table.
Furniture could be arranged on the diagonal to visually expand a small space, create a sense of movement, and add interest.
Placing furniture on the diagonal could be a challenge for some. A trick I learned in school is to start with an area rug placed on the diagonal, then to align the furniture with that rug. The example below clearly illustrates my point.  It shows a room with a long area rug laid diagonally across it, anchoring two sitting areas in H shape furniture grouping.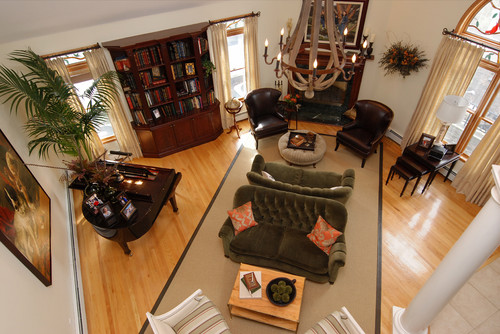 Which furniture grouping do you currently have in your family room? Do you feel like trying a different one? Before you start physically moving the furniture around, you might want to try this trick by Marcia Prentice from Apartment Therapy.
If you would like some help drawing your plan, contact me. I will be happy to help. 🙂
Please follow and like us: