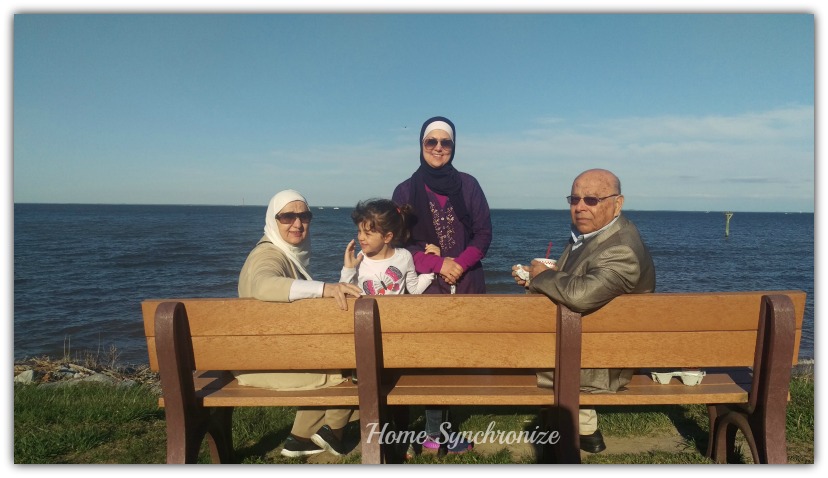 I'm sorry I've been away from my blog for so long. It has been a very busy time with my parents visiting from Jordan and I was finding it a challenge to juggle the demands of my business and my family.
Seven months ago my siblings and I convinced our parents to move to the U.S. because they have no one in Jordan to take care of them. My father, who is 79, was not willing at first because it would be a huge lifestyle change and of course we understand. He agreed after we promised that we would not hold him here against his wishes, and that he (and mom) get to decide when to return to Jordan.
This "visit" was my opportunity to connect with my parents again.
Back in the days I did what most of us do during our childhood, I took my parents (and my siblings) for granted. I remember spending most of my time reading, writing and decorating my room. I had a special connection with my older brother so I would talk to him about anything but I did not care to get to know my other siblings, let alone my parents. This was my life then and I was comfortable with it.
Then I abruptly woke up! I got married and moved to the U.S. and had to adjust to my new life all by myself. It was not easy. Phone calls to home were expensive, letters would take about 2 months in the mail, and we could not afford tickets to Jordan so I got to see my family every 2 years or so. I missed my room. My home. My family. I was holding on to what little memories I had of family times and waiting anxiously for making new memories when I see them again. I remember feeling disappointed in myself for not spending time with my family when I had the chance and I promised myself to always take advantage of any opportunity Allah gives me to let them know that I love them.
Fast forward 25 years, my parents arrive to the U.S. to possibly live with us. This was my opportunity and I was not going to waste it.
As I said earlier, since I did not spend time with my parents growing up, I did not truly know them. As children, we don't understand our parents behavior, thoughts and personalities but as we grow older we find that we have a lot of things in common with them. Things we like and things we'd like to change. For example, my mom likes to cook early in the morning no matter what. She says, by making sure that lunch/dinner is ready we can take our time doing whatever we need to do for the day. I understand now how she managed to organize her time in order to take care of her household. This is something that I took for granted growing up and now that I do the same, I see how hard it was for her to do. She had taught me time management and organization skills. I love those qualities in me and would not change them for the world. As for my father, I found out that he tends to overthink things much like I do! He creates those "what if" scenarios, some that make sense and others that don't. For example, if he has an appointment then he would be dressed and ready 2 hours ahead of time. He would also make sure that he arrived at least half an hour early, "in case there was an accident on the road"! Thanks to my dad for teaching me to respect the time of others and to always be punctual.
It is a joy to get to know your parents. To compare notes with your siblings about the qualities that we share with each other and with our parents. Not only is it a rewarding personal experience, it builds a strong family bond that we get to lean on when times get tough.
My parents traveled back to Jordan last week but I managed to squeeze in some time, when my mom wasn't looking, to make her a personalized mother's day gift. I was inspired by a question on Family Feud, "What's another way people say mother?" In the Arabic language and depending on the region, you will find several words that refer to "mother". I asked my calligrapher to design the words I came up with in Thuluth calligraphy style.  In this video you will see how I used (some of) these words to design a subway art decal and use it to create a personalized mother's day frame.
…….And now you know why I am publishing a tutorial for a personalized mother's day gift AFTER mother's day. Alhamdulilah, I was able to give my mother this frame so she will always be reminded to give us her blessing. Although, she says, she does not need a reminder to do that!
Happy belated Mother's Day!
Update: I'm proud to say that my mom launched a You Tube channel to share her love of cooking and her delicious Arabic recipes with the world. If you're interested in authentic Arabic dishes then you have to visit Tata suzy's kitchen.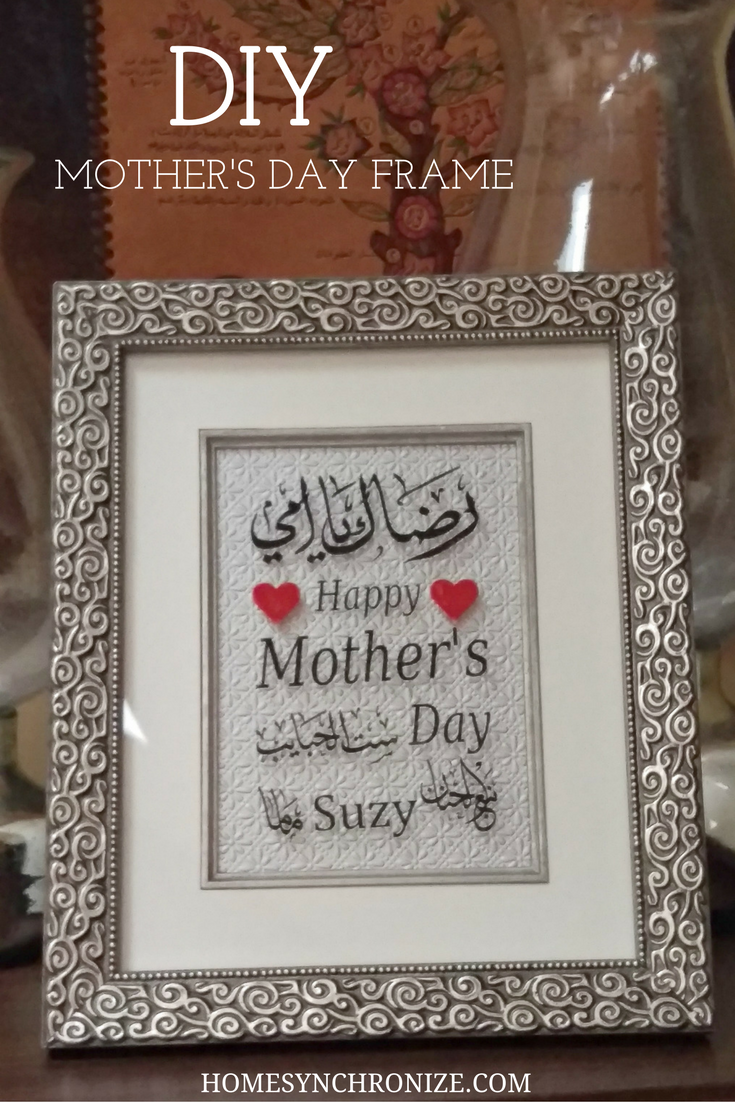 Please follow and like us: