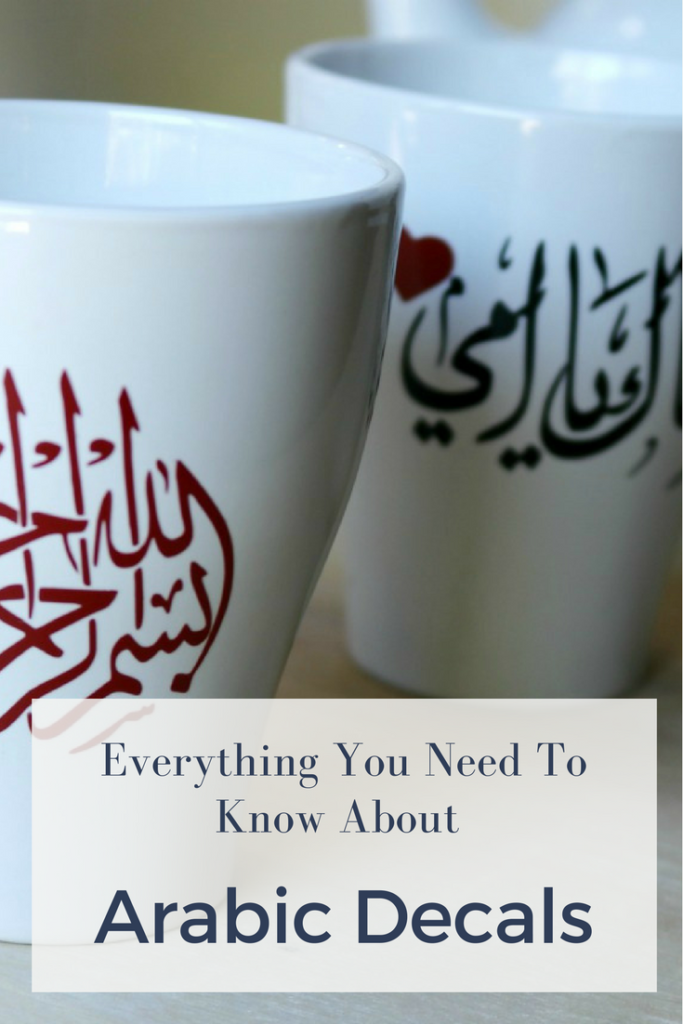 Are you familiar with decals?  I get asked a lot about them at events so I figured its time to introduce my readers to them because they are truly AMAZING! Decals are an affordable and easy way to update the look of any surface. Trust me!
Personally I love to use our Arabic decals to create artwork but there are many other ways you can use them around your home. Here are some ways I have used them so far….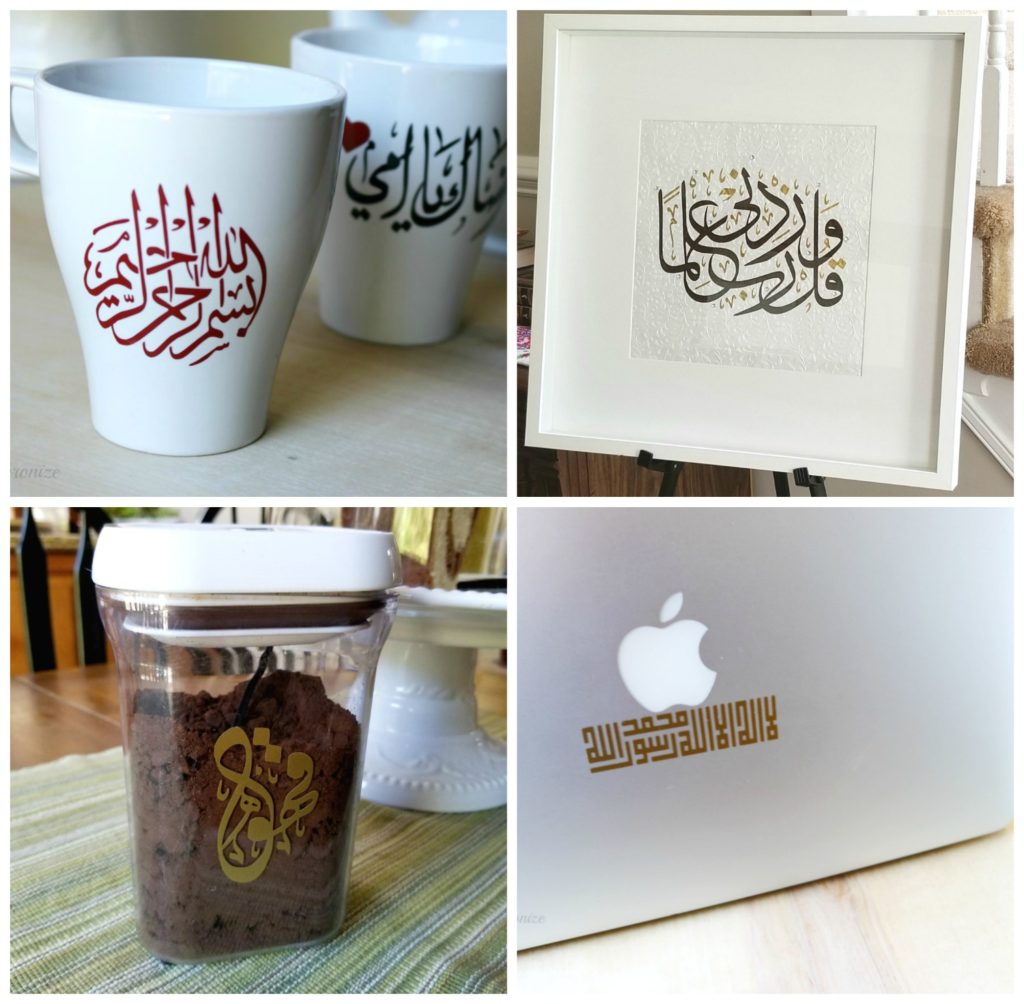 What are decals?
In a nutshell, decals are similar to stickers but without the background (so they look like they are stamped or painted on).
At Home Synchronize we specialize in Arabic decals as well as Islamic patterns & shapes decals. We design Arabic/Islamic script into fascinating calligraphy styles then turn them into decals so you can enjoy them around your home. Our decals are made of high quality vinyl with adhesive backing and can be used on any hard, smooth surface such as walls, mirrors, glass, doors, drawers, trays,ceramics, paper, cardboard , etc.
(P.S. If you're applying the decal to glass, DO NOT use Windex or any ammonia-based cleaner as that interferes with the adhesive).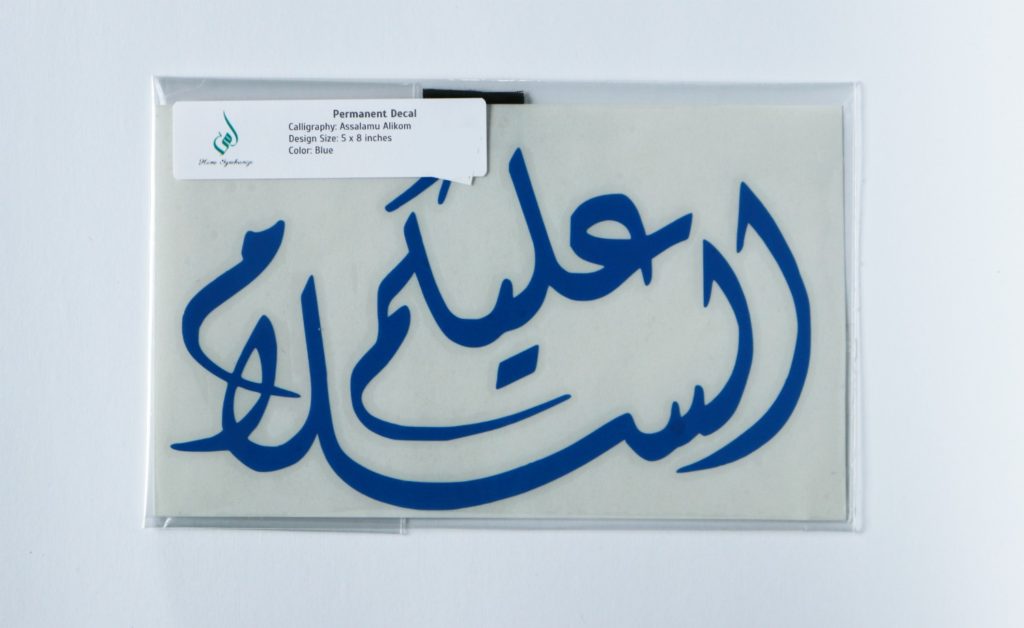 We carry 2 types of decals; removable and permanent. They are both for one time use. The removable decals are for indoor use only and since they can be removed, they are suitable for renters, college students and those of us with evolving design taste. The permanent decals are washable (hand wash only), can be used indoors and out, making them suitable for decorating cups, mugs, serving dishes, cars and windows.
How to apply our decals?
Decals come in 3 layers; transfer tape, vinyl design, backing paper.
 Make sure that the surface is clean and dry. Dust and dirt lessens the adhesiveness of the vinyl decal.
 Lay the decal flat with the transfer paper facing up. Then use a credit card to gently rub the transfer paper to ensure proper transfer of the vinyl.
Mark the center of the decal. 
Place a long piece of masking tape at the center line to tape the decal from top to bottom. Then, tape the decal to the surface where you need to apply it. Make sure it is leveled!
Starting at the upper right corner, peel the transfer tape and vinyl away from the backing paper working your way towards the center line. Once there, use scissors to cut the backing paper.
Once the baking paper is removed, use a credit card to gently rub the transfer paper and vinyl onto the surface. 
Repeat steps 5-6 with the other side.
After the calligraphy decal is attached to your surface, slowly peel away the transfer paper. As you are peeling it away, if the vinyl does not attach to the surface, cover it again with transfer paper, rub it with a credit card, and then peel again.
Enjoy your newly decorated surface!
Here is a short video tutorial showing the process of applying a small permanent decal
While our decals can be used on walls, you won't find those x large sizes that need two people to apply in our shop. We focus on unique ways to use decals to add Middle Eastern flavor to our homes so we carry small to medium size decals for arts and crafts projects.
If you're looking for ideas on how to use Arabic decals around your home, check these out
Super Easy DIY wall art video tutorial
A Personalized Mother's Day Gift Idea
5 min. Modern Islamic Calligraphy Painting
DIY Tile Coasters with Arabic Alphabets
Fabric Wall Art with Islamic Calligraphy Decals
I hope I've inspired you to use Arabic decals in ways other than on your walls (while there's nothing wrong with that ;)).  We have plenty of Arabic decals to choose from, come on over to our shop to find that perfect quote or contact me to customize your own.
SaveSave
SaveSave
SaveSave
SaveSave
SaveSave
SaveSave
SaveSave
SaveSave
SaveSave
SaveSave
Please follow and like us: