Accessories are the icing on the cake when it comes to home décor. They add character to your space because they reflect your style and interests. Accessories can be vases, picture frames, candle holders, books, tabletop plants, trays, decorative plates, toss pillows, throw blankets, wall art, etc. Today I will highlight those accessories that can be arranged on shelves, tabletops or mantels. How do you show-case your accessories and turn them into a dramatic display?
Note: Decide on the style of the room and what you intend to show through your accessories. The accessories should complement your design in color and theme.
This amazing record player cabinet is  from my in-laws. Even though it does not work anymore, I decided to keep it as an antique piece that would add character to my living room. It would provide the surface for a  grouping of accessories that is dramatic and eye-catching in a semi-formal living room.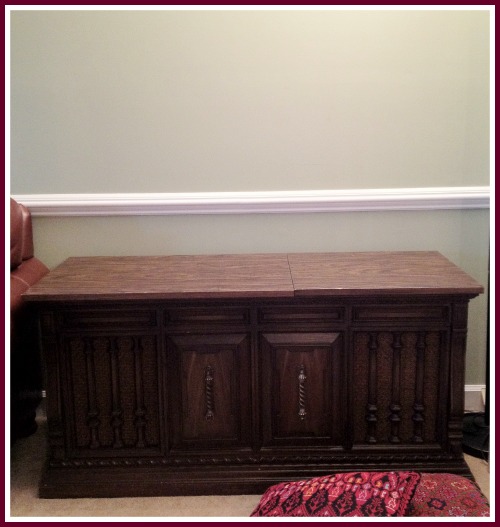 How to select your group of accessories:
Start by collecting all the accessories from around your home.
Divide the items according to size, color, and shape.
Select your group by varying size, color and shape. Variety, in your choices for accessories bring excitement to designs. It can be minor such as a slight change in color or shape or major such as a clear contrast of styles. Be careful not to overdo variety as that could lead to a cluttered, disorganized look. Not what you are looking for!
Below are my choices for accessories that vary in shape, size and color.

How to arrange your grouping:
When you are trying out different arrangements, keep in mind two important factors; balance and gradation. I explained visual balance in my post about creative art . Gradation will create a sense of movement and can be achieved by varying the height of objects. You can increase the heights of objects by popping them onto books or by using tall vase fillers.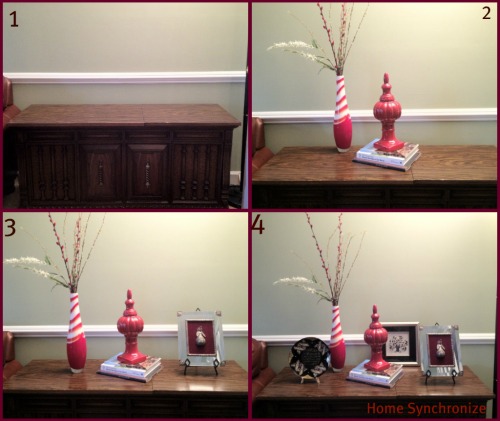 Layering of accessories adds depth and is visually appealing. Try placing objects in the back and the front of the surface and don't be afraid to place them in front of each other. Take a step back to examine your arrangement to see whether the objects are blocking each other from view.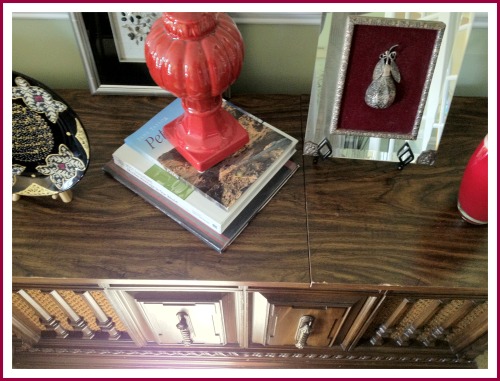 Use the full width of the surface or at least 3/4th of it to create a visually appealing arrangement. You don't want to end up with an arrangement that looks crowded such as the examples below.  Also notice how cramming the accessories together results in blocking the view from the ones in the back.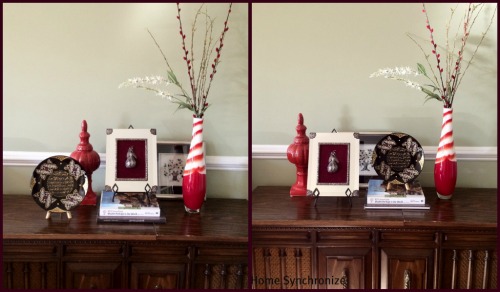 Just for fun: I  experimented with different arrangements using other accessories and this is what I came up with 🙂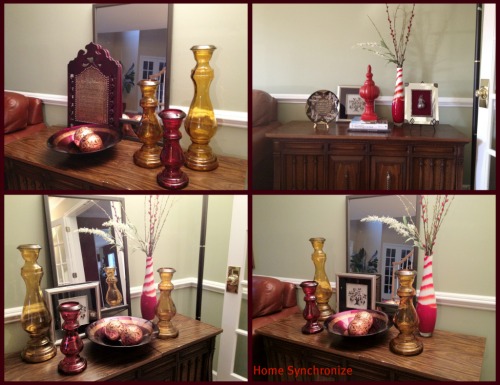 Finally, if the record player cabinet was against a wall of its own, I would have used the arrangements with the tall mirror to create a focal point. However, this cabinet shares the wall with a large mirror which is the focal point of my living room.  So, this current arrangement compliments the design of the room and does not compete with my focal point.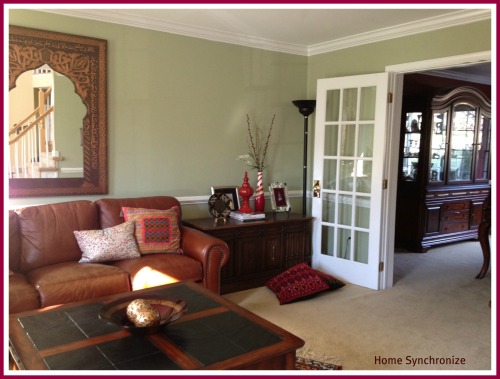 My final advice is:  always step back and check your arrangement. Your eyes will tell you that something is off!! 🙂
Please follow and like us: