Now that Ramadan is around the corner some of you may be thinking about prayer rooms. How can you create a space in your home that will allow you to quietly reflect inward and connect with Allah?
Alhamdulilah, Allah has given us the whole earth as a place of worship! As muslims we are not limited to one specific place to perform our daily prayers. As long as the area is clean, we're good to go. (Read this post: Decorating a Muslim Home: 8 things you must know)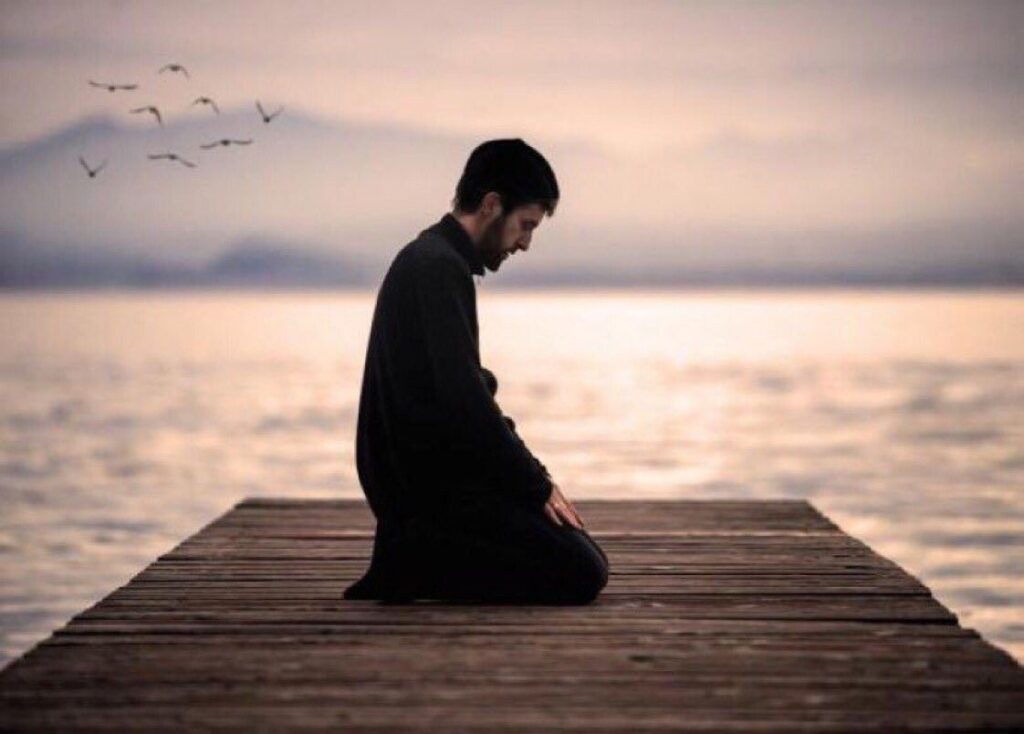 However, since we pray 5 times a day we often designate one space/area for prayer. How can we make that area a space for calm and peace?
Here are 5 steps that you can take to create an Islamic prayer space/room in your home.
Make it Private: Select a corner in your home that is away from traffic zones, and distractions. You may set up a folding screen to create a private space within the larger space. You can also choose to turn an unused living room, bedroom, or basement into a prayer room.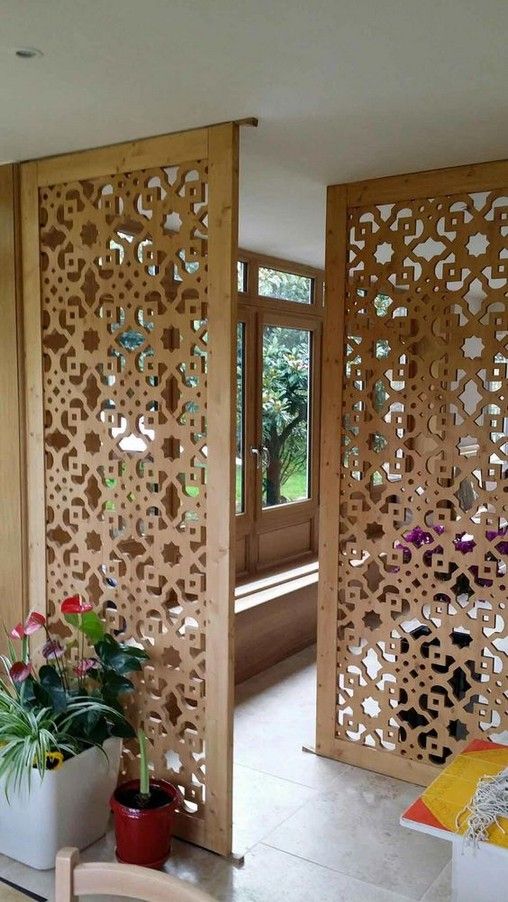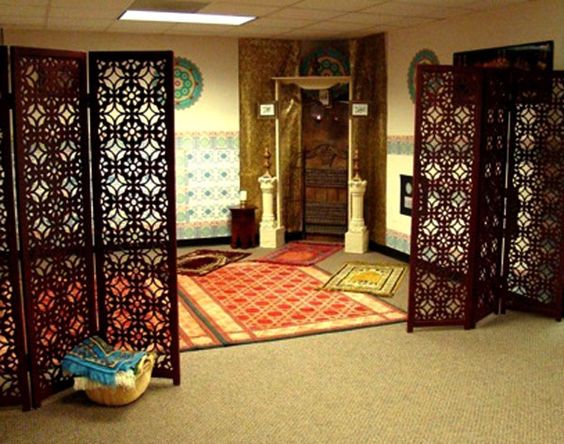 Make it Peaceful: We strive to have Khushu' (humility) during prayer so the place we're offering our prayer in should be a place of calm, soothing feelings. Soft lighting (natural light is best), uncluttered surrounding, and soft colors like pastels invoke feelings of calm and peace.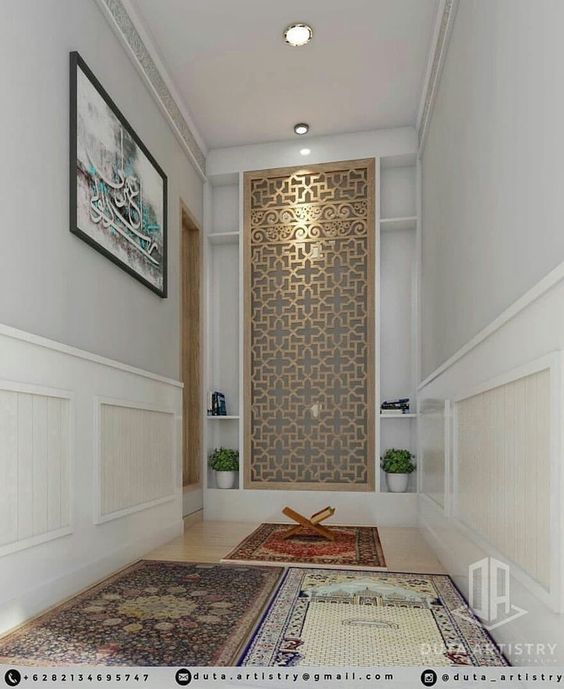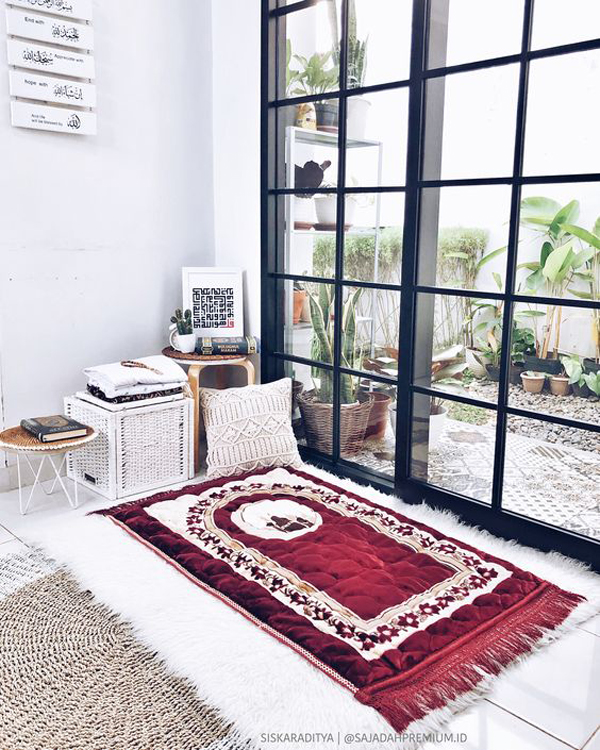 Keep it clean: In order to ensure the cleanliness of the prayer area, many muslims use a prayer rug-even in their homes- to pray on. This is usually folded and kept in a drawer or shelf to remain clean.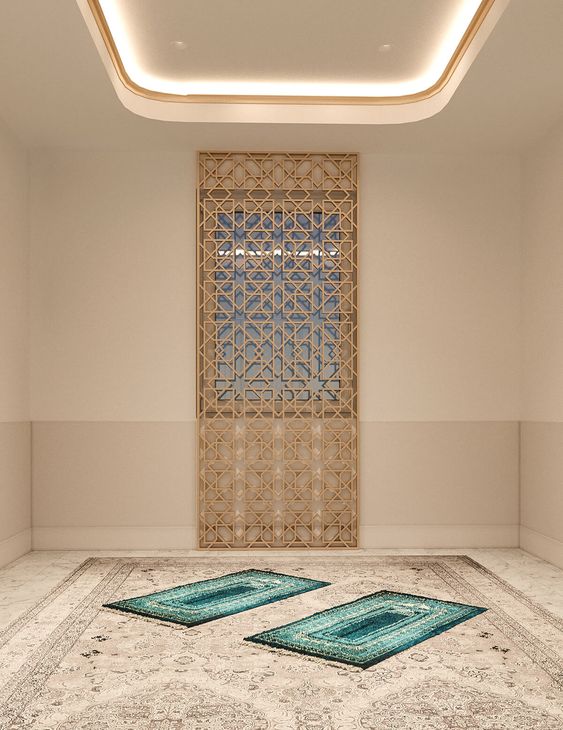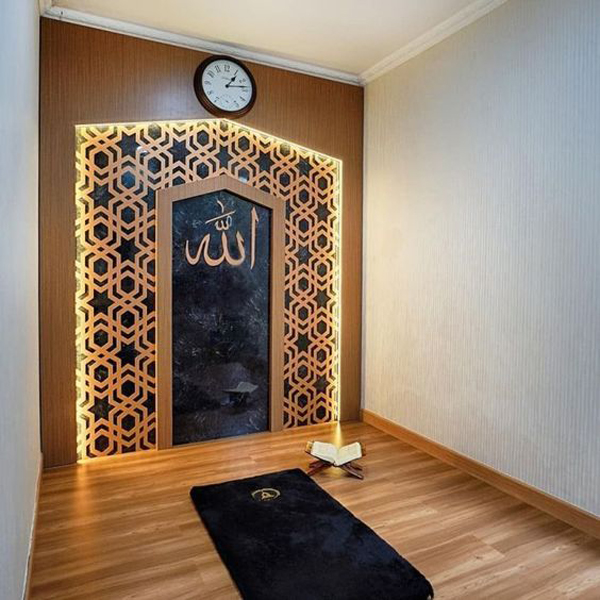 Keep it organized: I like to use closed storage such as drawers, cabinets with doors, decorative baskets/ottomans to store prayer rugs, and prayer clothes. A bookshelf or console table can be used to display religious books/Quran for easy access. Small decorative bowls can be used to keep prayer beads.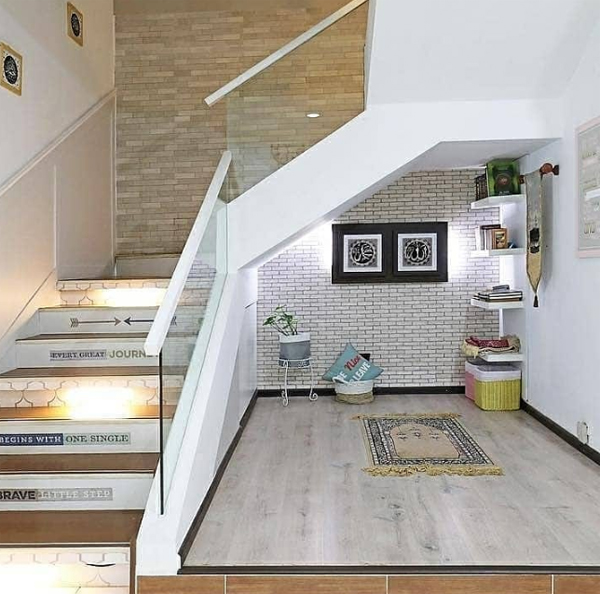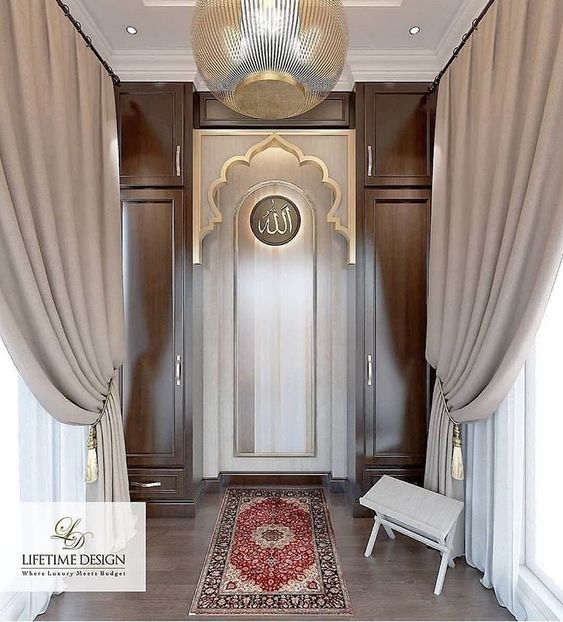 Make it Beautiful: Decorate with items that make you feel calm and gives you a sense of peace. I like small plants or a vase with fresh flowers, a mini water fountain, scented candles or air freshener, and of course any Islamic design element such as geometric patterns and Islamic calligraphy.
If you have extra space in your home you probably want to create a prayer room that can serve other functions such reading or entertaining. In this case, you may use floor seating (this is why muslims like floor seating), shelving, wall to wall carpeting or area rugs, and easy to move tables. The goal is to create an open, comfortable, and inviting space for prayer.
Keeping the above 5 steps in mind, I hope you can take some inspiration from the following spaces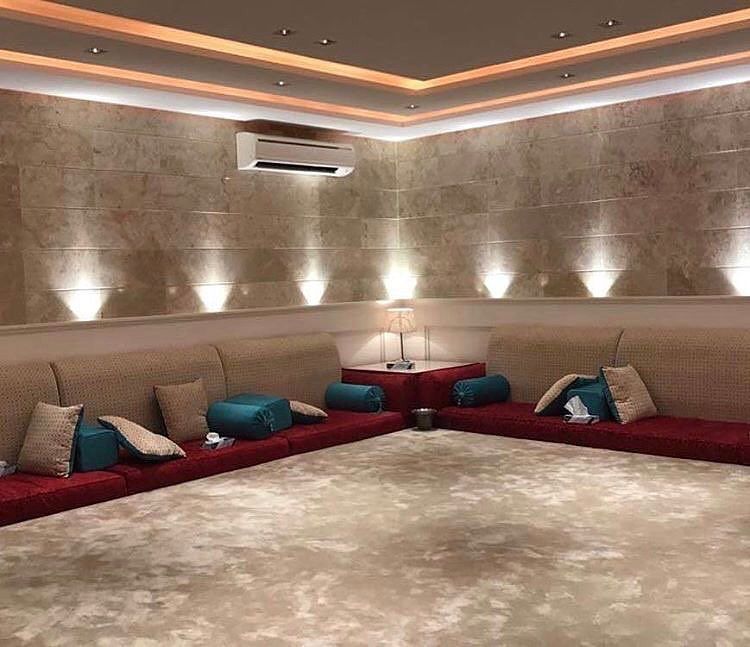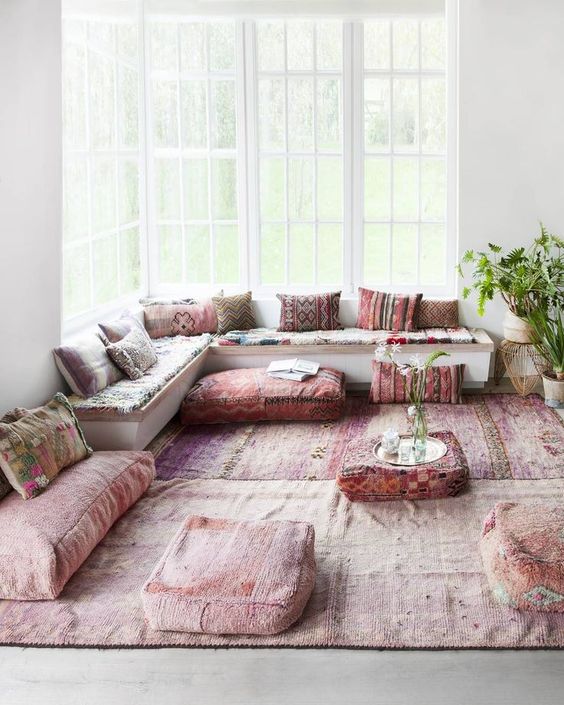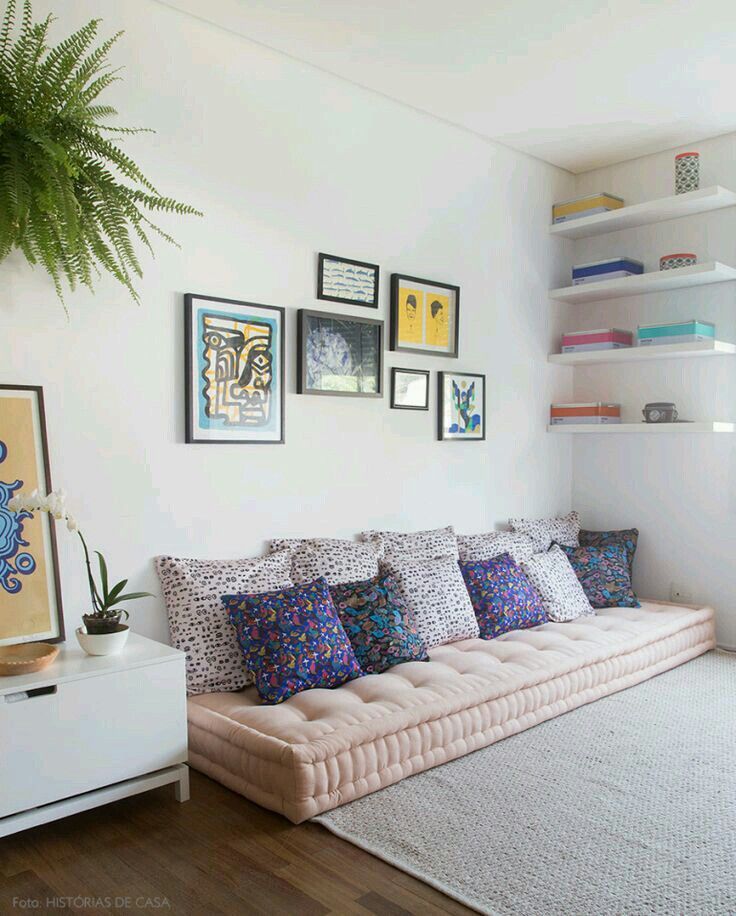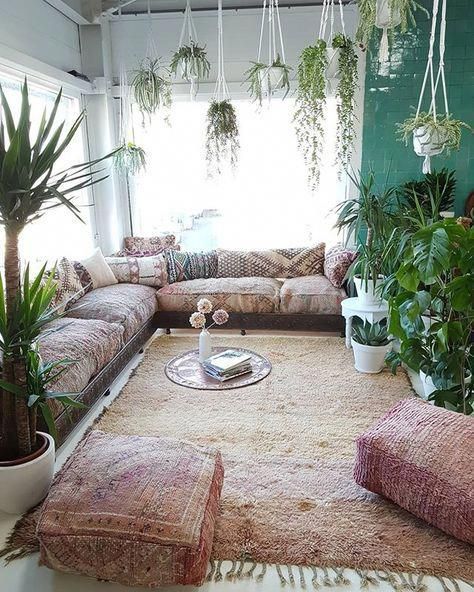 Does your prayer room give you a sense of calm? What would you change to improve it? Comment below and feel free to share a picture of your prayer space with us.
Much love,
Lama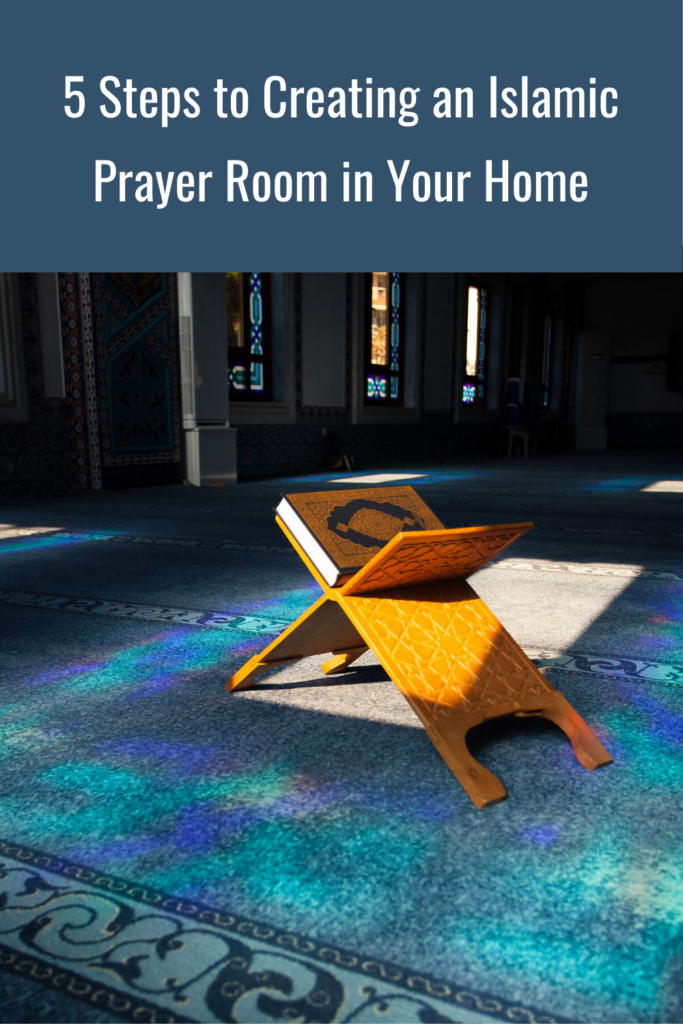 Please follow and like us: