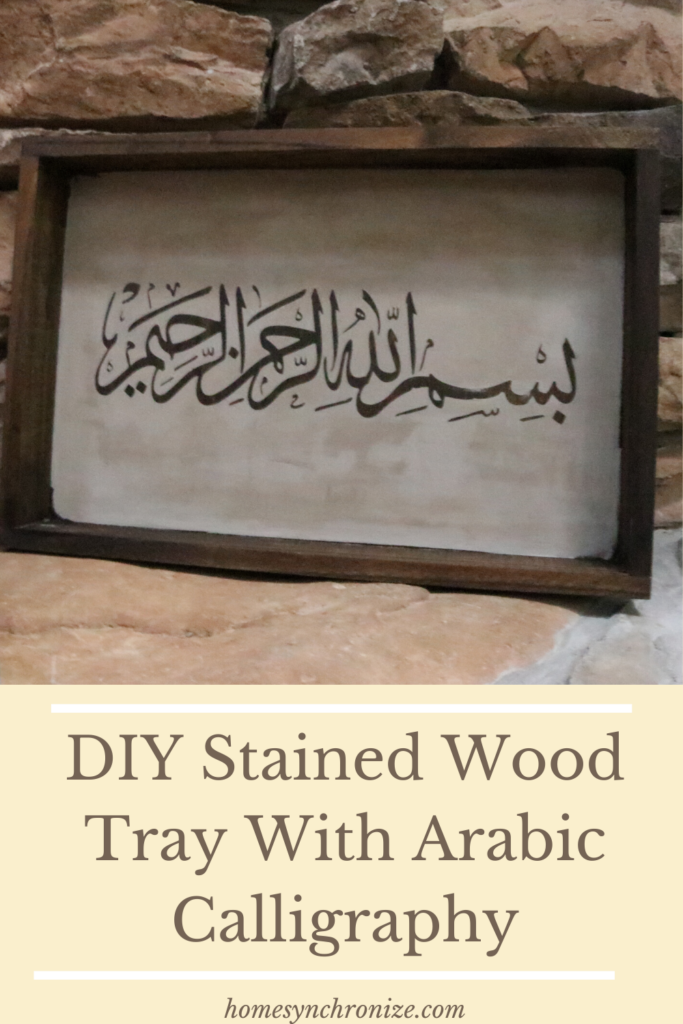 I enjoy learning new ways to apply Arabic calligraphy onto different surfaces. One idea that I've been wanting to try is stenciling on stained wood. (For stenciling on painted wood see my DIY Zikr wood block tutorial)
In this reverse stenciling tutorial I'll show you how to add Arabic calligraphy on a wood tray using our Bismillah Al Rahman Al Raheem decal.
Watch the video and read the instructions below to find out how to add Arabic calligraphy to a stained wood tray, wood blocks, or even wood signs.
Supplies for this project:
Unfinished wood tray
Wood stain (I used walnut finish)
White paint
Rag
Foam brushes
Steps to creating a stained wood tray with Arabic calligraphy
Protect your work area by using newspapers/ old cardboard
Wear gloves to protect your hands from the stain and work outside or near an open window (Stains have a strong smell)
Lightly dip the foam brush and apply the stain to all sides of the tray
Immediately after that, use the rag to wipe the stain and create a more even look.
Allow it to dry completely before applying the decal
Follow the application instructions to carefully add the decal to the tray. (Take your time to avoid tearing the decal)
Apply masking tape to protect the sides of the tray.
Paint over the decal with white paint (I applied 3 coats of paint)
Slowly peel off the decal to reveal the design.
Remove the masking tape
(Optional) Apply stain over the finished design then wipe it off. (I chose to add the stain to tone down the while color)
Apply 2 coats of water based polyurethane to the stenciled area of the tray to protect it from spills and scratches.
That's it! A DIY stained wood tray with Arabic calligraphy!
I'm using this tray for decorative purposes, specifically as an art piece not as a serving tray. The wood is too fragile to be used for serving and it is not befitting to place anything on top of the Islamic calligraphy design I chose.
Have you tried stenciling on stained wood? What did you find challenging? Please feel free to share your expertise in the comments below.
Please follow and like us: