Happy Monday! How was your weekend? Sunday was mothers day in the U.S., so happy mothers day to all the mothers around the world. While mothers day should be everyday, we all look forward to this day to use as an excuse to torment our children into doing what we please! That may sound evil to our children because they will never understand that what really makes us happy is having them around us, and seeing them happy. 🙂
I love my kids!
Anyways!
I mentioned in part one of this post that a successful furniture arrangement should be functional. The first tip was to evaluate the traffic patterns in your homes. What is the path that people take to move from room to room? Your furniture grouping should not be blocking these paths.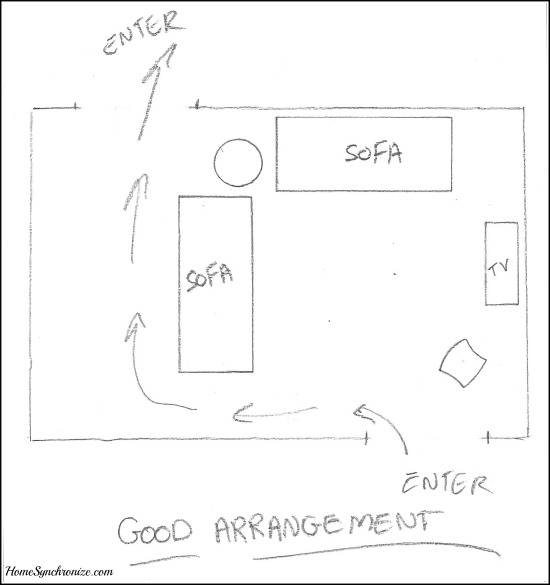 The second tip in deciding the best furniture arrangement, is to evaluate the space (room). Ask yourself the following questions:
 •   How many windows are in the room? What is the view from the windows?  Answers to these questions will help you decide if the furniture should be facing the windows or not.
 •   How many doors/openings are in the room? This should tell you about traffic patterns coming in and out of the room that would affect the placement of the furniture.
•   What is the focal point (the first thing you see as you enter the room)? Fireplace, window, entertainment center, wall art? This should give you a point around which the furniture should be grouped.
•   How do you use the room (Room Function)? Conversation/entertaining, watching TV, reading. Yes, you can have multiple functions in one room.  The furniture arrangement should accommodate each and every one of them.  
Once you evaluate the space, your furniture arrangement should maximize the focal points, serve the room functions, and accommodate traffic patterns. This video from BHG explains successful furniture arrangement in simple terms.
Next week, I will share examples of the most popular furniture configurations. Stay close!
Please follow and like us: