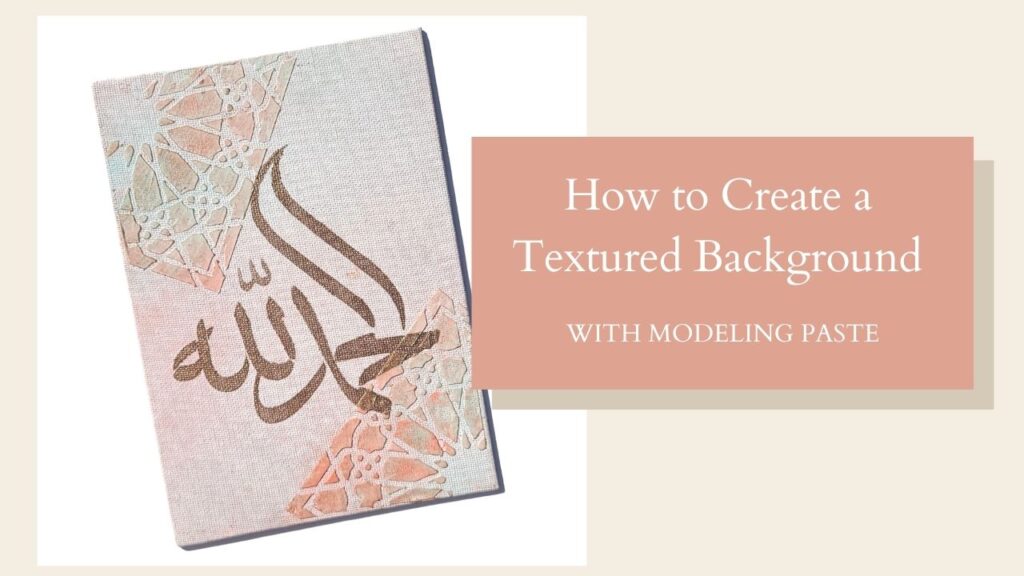 Salaam Everyone! I'm excited to share a new discovery with you today. Alhamdulilah I finally learned how to create a textured background for art! I don't consider myself an artist so I get excited when I learn a new technique in art.
What's texture and what's so exciting about it?
According to Art Foundations
Texture refers to the surface quality in a work of art. We associate textures with the way that things look or feel. Everything has some type of texture. We describe things as being rough, smooth, silky, shiny, fuzzy and so on. Some things feel just as they appear; this is called real or actual texture. Some things look like they are rough but are actually smooth. Texture that is created to look like something it is not, is called visual or implied texture.
The purpose for including texture in art is to add visual interest by way of creating contrast. In simple words, the art will attract more attention if it includes texture. 😉
In today's video, I'm sharing my first experience using modeling paste to create texture. I hope you enjoy the video.
To create the art in the video, you'll need
Alhamdulilah reusable stencil from Home Synchronize
Islamic tile pattern reusable stencil from Home Synchronize
Liquitex Professional Light Modeling Paste
Ranger Distress Spray Stain By Tim Holten (abandoned coral and cracked pistachio colors)
DecoArt Elegant Finish Metallic Paint in Rich Espresso color
Stencil Ease repositionable Stencil Adhesive spray
Cosmetic sponges
Palette Knife
I hope you enjoyed the video and found it helpful. If you decide to try it and create texture with paste, post your art and tag me on Instagram @homesynchronize. I'd love to see it.
Lama
Please follow and like us: